Seinfeld: A Show About Nothing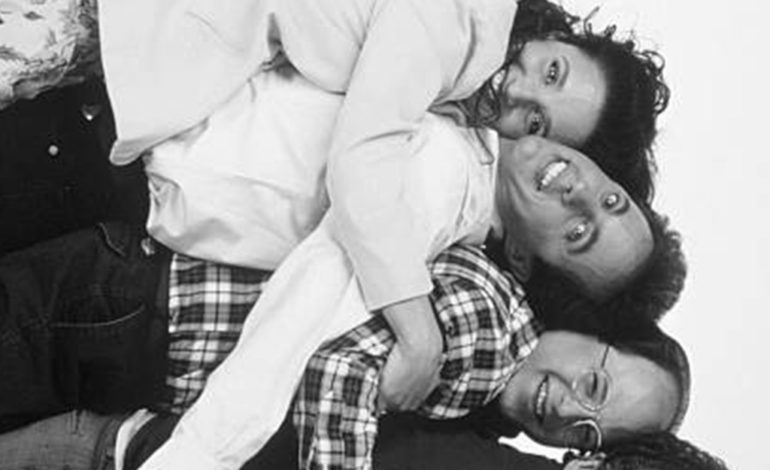 Step into the time machine, because we're taking you back to the late '80s and '90s when "Seinfeld" ruled the TV waves! This legendary sitcom, co-crafted by the comedic geniuses Larry David and Jerry Seinfeld, was nothing short of a cultural tsunami.
Picture this: New York City, Jerry Seinfeld, and his gang of quirky pals; Elaine, George, and Kramer, making every mundane moment incredibly funny.

The Enigma of Fame: Why So Popular?

Unlike most sitcoms which had an A-plot and a B-plot, Seinfeld revolutionized television by weaving multiple storylines together in one episode, each one as addictive as the next.
So, what was the secret sauce? The feeling of relatability, of course! The show took everyday situations and turned them into hilarious moments that anyone could relate to. The humor was intelligent, and the jokes were subtle, yet hard-hitting.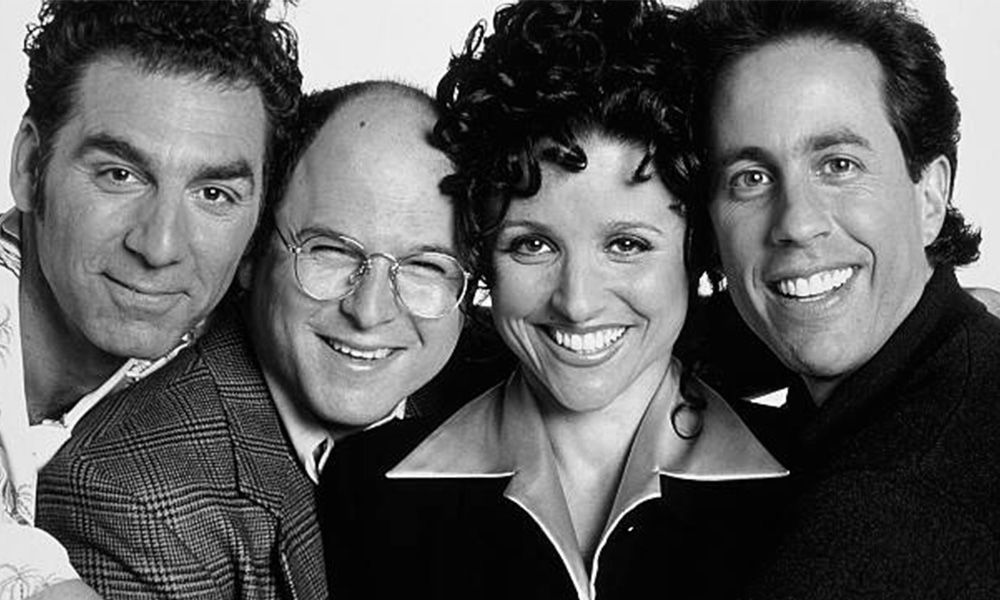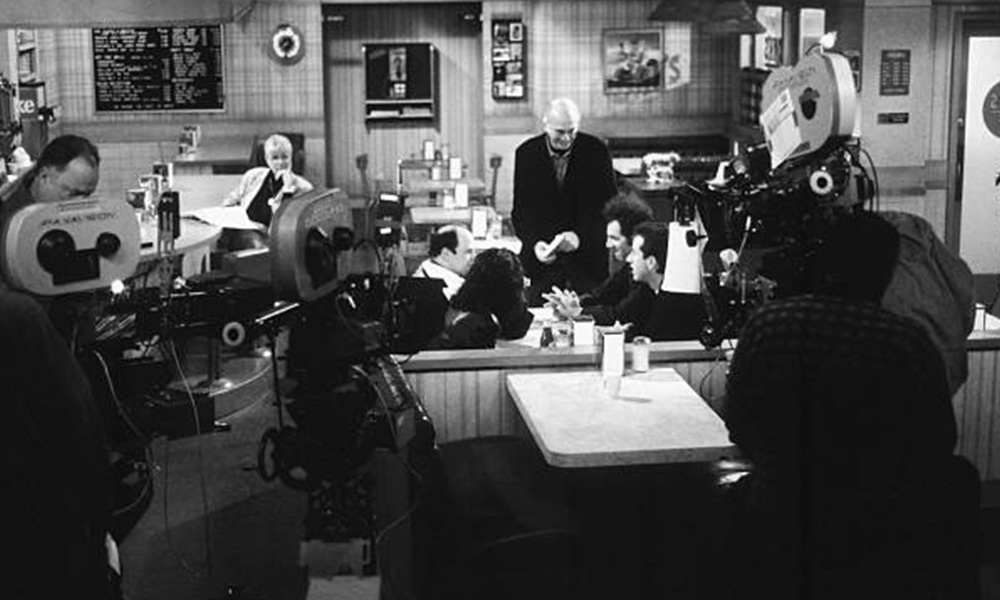 The Iconic Characters and The Reason Behind the Motto

Jerry Seinfeld is the master of observational comedy, the king of the puffy shirt, and the ultimate hype man for cereal. Kramer, with his wild hair and ridiculous ideas, was the ultimate neighborhood eccentric. George, with his signature baldness and endless blunders, was the kind of guy you'd love to hate. And Elaine, with her sassy 'tude and iconic dance moves, was the queen of the office.
Together, they formed a dynamic trio that made us laugh until our sides hurt. So, whether you're a Kramer fanatic, a Costanza convert, or an Elaine enthusiast, Seinfeld will always be the ultimate classic comedy for us all.
Here's the kicker: Seinfeld was often described as "a show about nothing" because the show largely focused on the mundane, everyday experiences and conversations of its characters rather than a central plot or theme. Rather than having a clear, overarching storyline or direction, it relied on witty dialogue and observational humor to create its unique brand of comedy.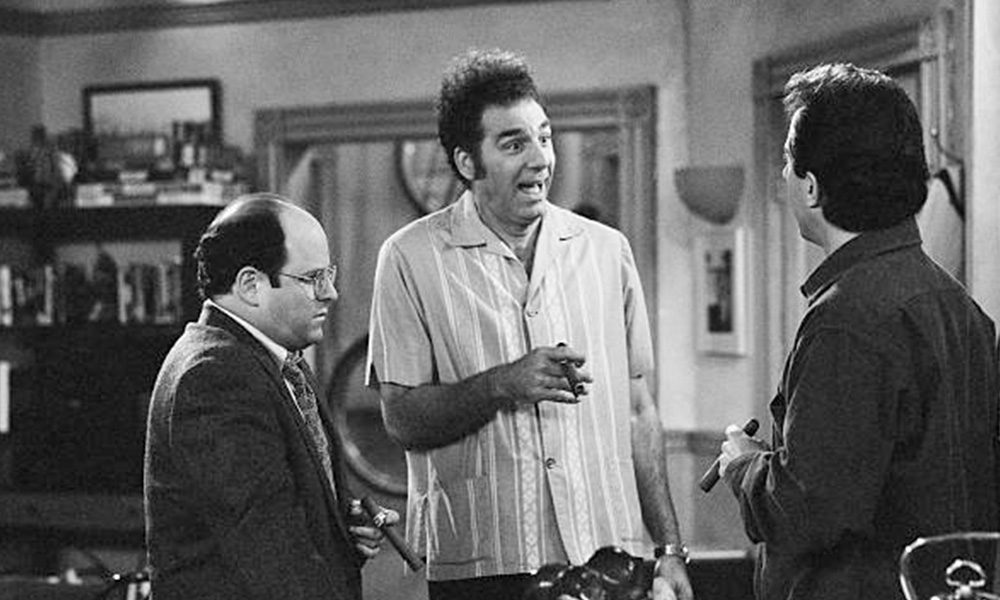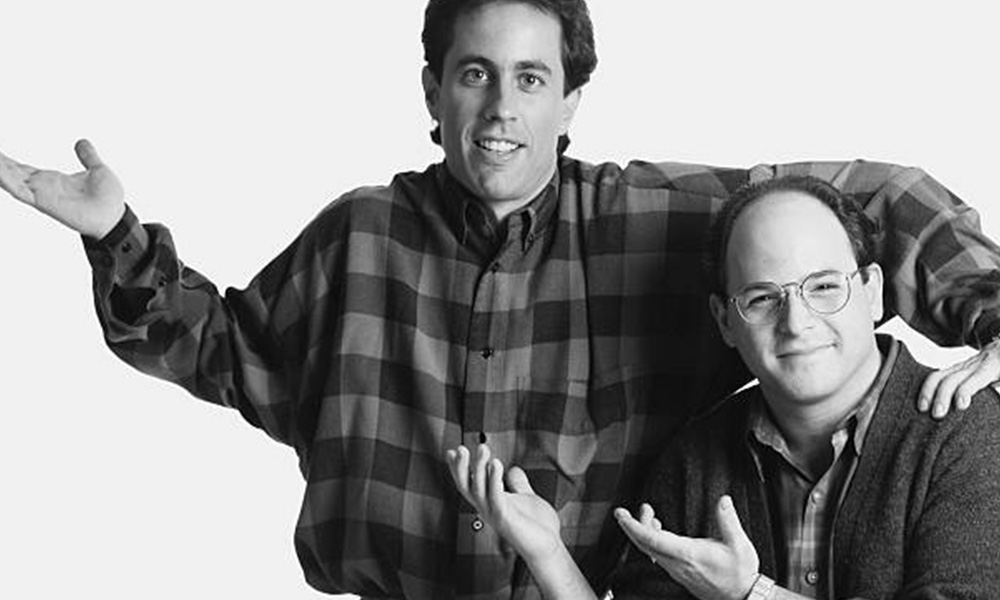 Yada Yada Facts: Everything You Never Knew About Seinfeld

From the infamous "Soup Nazi" to the hilarious "Festivus" celebration, Seinfeld has become one of the most iconic TV shows of all time.
But how deep is your "Seinfeld" knowledge? Here are some interesting and rarely-known facts about the show:
Kramer, that zany neighbor, was no figment of imagination! It was based on a real person named Kenny Kramer, who was a neighbor of Seinfeld co-creator Larry David.

That thumping bass-heavy theme that makes you bob your head every time? Well, the theme song was actually created on a synthesizer by composer Jonathan Wolff, who used a mix of slap bass, finger snaps, and mouth pops to produce the catchy tune.

Remember "Friends"? Well, before the Central Perk gang was there, the "Seinfeld" crew made a pit stop and actually appeared on an episode of the popular '90s show "Mad About You."

What about those iconic diner scenes where the gang and Jerry spilled the beans of their life? Well, they were all movie magic, filmed on a soundstage, with a set modeled after a real diner.
Seinfeld, the enduring series that has left an indelible mark on the rich tapestry of comedy history. A show seemingly about nothing? Well, maybe it is a show about everything you never realized you craved!
(Update) If you are a fan, you might like this news.
Nothing Forever is an AI-generated show on Twitch that runs 24/7.
The show is structured vaguely similarly to actual Seinfeld episodes. Each "episode" of Nothing, Forever includes a stand-up interlude where the cartoon Feinberg is speaking at a microphone on a stage.
(Update) And this news will drive you crazy.
Jerry Seinfeld hints long-awaited Seinfeld reunion is on the way: 'I have a little secret for you'
The presenter vaguely told fans that 'something is going to happen'.

Longing For Better Content?
No one belongs here more than you do.
Read thought-provoking articles that dissect everything from politics to societal norms. Explore critical perspectives on politics and the world around us.