Getting Avant-Garde With Rick Owens: A Journey Through Japan-Inspired Fashion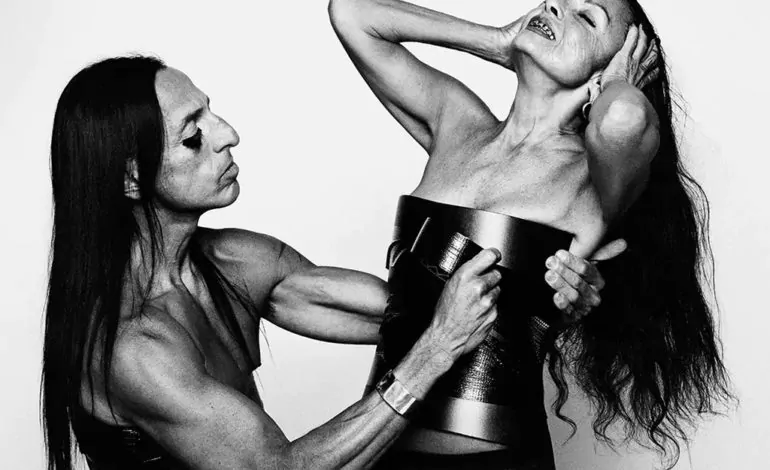 Ready to discover the wild and crazy world of Japan Avant-Garde? Check out Rick Owens and his contemporaries in this iconic fashion movement.
What's the Japan Avant-Garde movement, and who is Rick Owens?
The Japan Avant-Garde movement is a revolutionary style in fashion from Japan that embraces experimentation and creativity.
Rick Owens is a prominent fashion designer who champions the Avant-Garde style with a design philosophy that pushes boundaries.
What techniques do Owens and his contemporaries use to create unique designs?
The art of draping and embellishment is key to Owens' distinctive style.
Other designers in the Avant-Garde Kingdom employ similar techniques to create one-of-a-kind fashion.
Why should you care about the Japan Avant-Garde movement and Rick Owens' designs?
The fashion revolution in Japan is a creative, experimental approach to design that's changing the industry, and Rick Owens is a leading force in this movement whose unique perspective is worth exploring.
Keep Scrolling to Uncover More

The Wild World of Japan Avant-Garde
The Japan Avant-Garde movement was a wild and unconventional art movement that emerged in Japan in the 1960s. It was a reaction against the country's post-war economic boom and the conservative values that came with it. The movement rejected traditional art forms and showcased provocative and radical art pieces that often incorporated performance art, body art, and video installations. The Japan Avant-Garde movement was characterized by its absurd, chaotic, and nihilistic themes that challenged social norms and expectations. The movement had a significant influence on the global art scene and inspired many artists in Europe and America.
Rick Owens, an American fashion designer based in Paris, is often associated with the Japan Avant-Garde movement. His dark, edgy, and unconventional designs reflect the movement's rebellious and innovative spirit. Owens draws inspiration from Japanese culture and art, especially the avant-garde scene of the 1980s and 1990s.
The Art of Draping and Embellishment: Owens' Techniques
Rick Owens' approach to fashion design is anything but ordinary. With a rebellious spirit and a love for all things avant-garde, Owens creates designs that are daringly different and always push the boundaries of fashion. Owens is known for using unconventional materials and techniques to create his masterpieces. He experiments with asymmetry, proportion, and the sculptural shapes of his garments, in order to create designs that are both edgy and elegant. Owens uses his designs to tell a story, weaving in themes of beauty and decay, darkness and light, to create a stunning and cohesive collection.
Owens' Love for Monochromatic Color Schemes and Luxurious, Drapey Fabrics
Rick Owens is a master of monochromatic color schemes and luxurious fabrics, especially those that drape elegantly on the body. In a world where color is everything, Owens stands out for his daring use of all-black or all-white collections. He believes that black is a mysterious and powerful color, one that can evoke a sense of depth and intensity, while white conveys a sense of purity and simplicity.
Owens' love for luxurious, drapey fabrics like silk, cashmere, and wool is evident in his collections. These fabrics are not only beautiful but also soft and comfortable to wear, making his designs practical as well as fashionable. Owens' use of draping is also a standout feature of his designs, as his garments fall effortlessly on the body in a way that is both flattering and elegant. His designs often feature exaggerated, billowing shapes that are still somehow sleek and refined, proving that Owens is a master of his craft.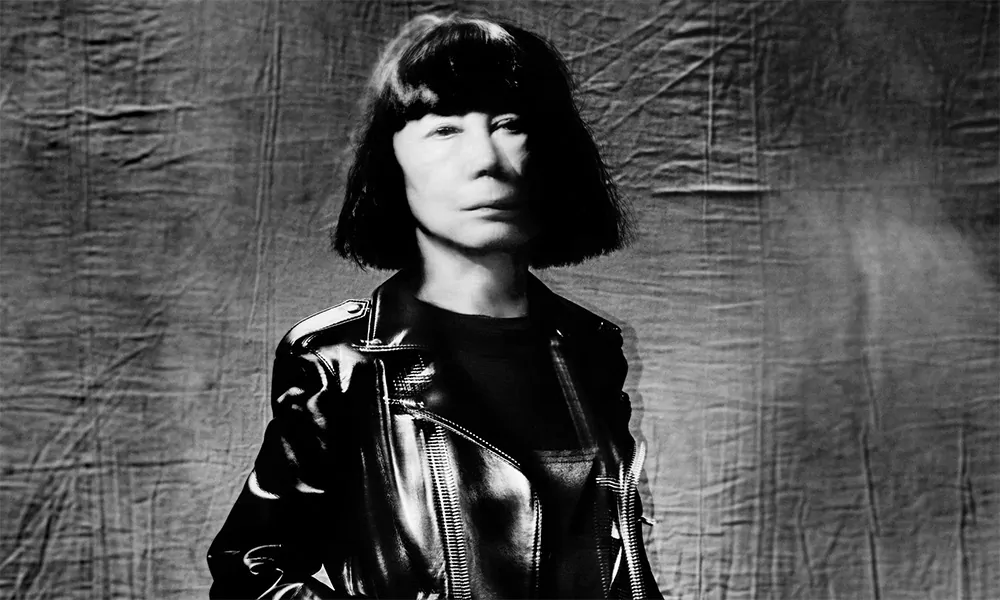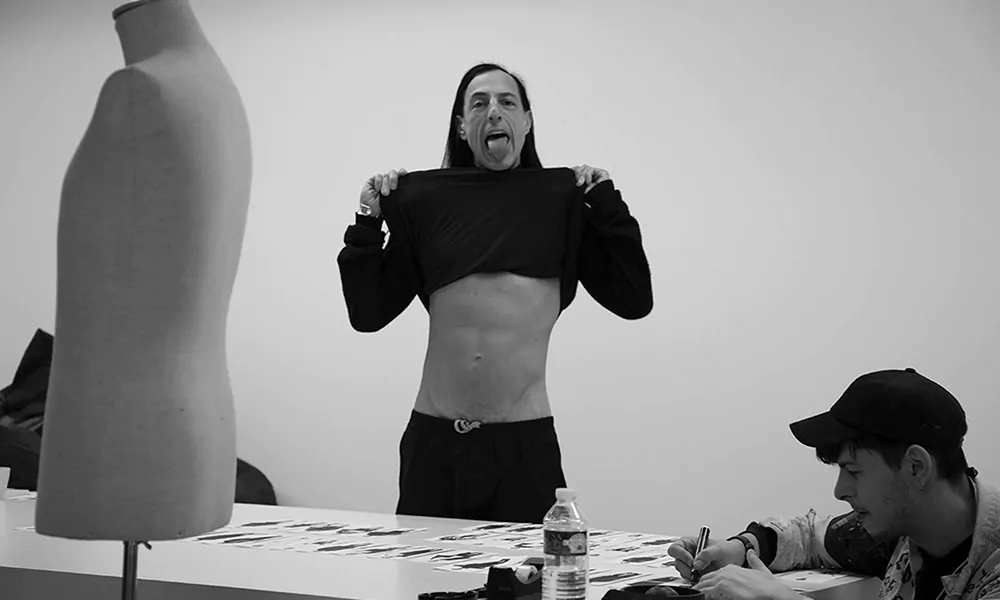 Brands Champions of Japan Avant-Garde: The House of Rick Owens
The trademark of the Rick Owens brand is its bold, edgy, minimalist aesthetic. His designs are characterized by monochromatic colors, asymmetric cuts, oversized silhouettes, and a love for luxurious fabrics that drape elegantly on the body. His designs often feature unique details like oversized draping or cut-out shapes that add a sense of avant-garde drama to his pieces. Owens' brand also stands out for its focus on practicality, with each design aiming to create both impact and ease of wear.
Rick Owens' career has been a series of milestones that have established him as one of the most innovative and revered fashion designers today. One of his earliest and most celebrated successes was his collaboration with Michele Lamy, which resulted in the creation of the cult-favorite fashion brand, Lamy Owens. His eponymous label's first runway show in 2002 gained critical acclaim, with Vogue describing it as "a visceral and unforgettable fashion experience." Owens went on to collaborate with legends like Birkenstock and Champion, and his label has become a household name with a global fan base. He has also been awarded the Cooper Hewitt National Design Award, which recognizes design excellence and innovation, and he has presented his clothing at the Venice Biennale and the Triennale di Milano museums.
Owens and His Avant-Garde Contemporaries
Issey Miyake, Yohji Yamamoto, and Rei Kawakubo are just a few of the fashion designers who were heavily influenced by the Japan Avant-Garde art movement.
Issey Miyake is known for his sculptural silhouettes and experimental techniques. He drew inspiration from Japan Avant-Garde's principles of breaking down traditions and creating new forms. Miyake's designs are characterized by bold shapes, intricate weaves, and texture play that challenge the conventional norms of fashion.
Yohji Yamamoto's designs are often described as poetic, dark, and cerebral. He draws inspiration from the Japanese aesthetic of Wabi-Sabi, which values simplicity, imperfection, and the beauty of natural materials. His designs often feature asymmetric cuts, oversized shapes, and a monochromatic palette that defy traditional beauty standards.
Rei Kawakubo's designs for her label Comme des Garçons are known for their avant-garde shapes and deconstructed approach to design. Kawakubo's designs transcend gender, age, and cultural barriers, often featuring black as the predominant color. Her unconventional approach to fashion has inspired many designers and artists around the world.
Rick Owens' approach to fashion is different from his contemporaries. His designs are often seen as a mix of Goth and Grunge styles with a futuristic twist. While Owens draws inspiration from the Japan Avant-Garde movement, his aesthetic reflects a unique blend of influences and perspectives that set him apart from his contemporaries.
When it comes to avant-garde fashion, Rick Owens is a true master. His daring and unconventional designs have inspired a new generation of fashionistas who crave edgy and subversive designs. With a focus on sculptured silhouettes and monochromatic color schemes, Owens has single-handedly redefined what it means to be a fashion designer. His vision and unique style continue to push the boundaries of fashion, paving the way for a new generation of boundary-pushing designers.

Longing For Better Style?
Literal's first t-shirt collection, with its inspiration from the Japanese avant-garde, its iconic pattern with a vintage spirit, its soft texture created with special cotton and its production concept that focuses on durability will have a special place in your wardrobe.
Now you know where to find that T-shirt you've been longing for.
Literal is an independent design studio where you feel you truly belong.
Also, you can follow us on Instagram